On 22 September 2022, SKG was honored to receive ISO 9001: 2015 certificate in the field of Quality Management System issued by the UK DAS Certification organization. The application of this ISO quality management system will help innovate and promote the development of businesses in general and bring practical benefits to SKG in particular.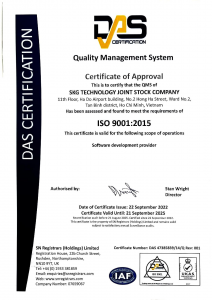 ISO 9001:2015 is defined as the Quality Management System standard that developed and published by the International Organization for Standardization (ISO) on September 24, 2015. The certification is a tool to facilitate and enhance business value in international trade, helping organizations gain the trust of partners and consumers, and open many opportunities to join the global supply chain.
This event recognized the results of efforts of the QA team in particular and of all employees of the company in general during the past 6 months. In the process of building a quality management system according to ISO 9001:2015 standard, the Divisions and Departments have continuously supplemented and perfected the system of processes, regulations and guidelines applied for practical works effectively, especially for inter-departmental coordination processes.
This achievement is one of SKG's new steps that brings benefits in business operations and enhances professionalism in working processes. With the newly received ISO 9001: 2015 certificate, SKG Technology JSC affirms the seriousness in continuing to maintain, apply certification and improve the company's quality management system in the following years.